Written By: Jesse Morris, Owner – We Book Travel LLC 
In person events are finally making a return and after more than 18 months of waiting I finally was able to come back to my favorite event, Global Travel Marketplace, held this year in Tucson AZ. So what is Global Travel Marketplace (GTM)? Simply put, it's a place where some of the best and brightest travel advisors connect with suppliers from all over the globe. That connection has a singular purpose, to lift all of our businesses to higher levels of success.
GTM is invitation only. You can apply, but there is a rigorous process for getting accepted. Applicants must provide multiple supplier references, have their sales verified, and participate in an interview with the GTM recruitment team. There are two versions of the event, one for the east coast and one for the west. Unlike some events where you pay a registration fee and you show up, GTM limits the spaces and ensures that the advisors who attend are serious about growing their business and have a proven track record of success in their agencies. Advisors accepted are fully hosted. They cover flights, hotels, transportation and meals on site.
The event is three days and is VERY intensive. The events are held at beautiful resorts but do not bother bringing a swimsuit because, if done right, you will not have time for that. Between the roughly 60 one to one meetings with suppliers and numerous board room presentations along with mealtime presentations and networking, you will have your hands full. Suppliers come from all over the world specifically to connect with influential advisors. Their goal is the same as our goal, growing your business.
I have been fortunate enough to attend this event 3 times in the last 4 years. The first time as an attendee. The second as an ambassador. And now as part of the advisory board. Advisors who attend are able to be invited back should they qualify for the 2nd year as an ambassador but are required to skip a year before any future returns. This is to ensure that more people get a chance as this exclusive event and to give advisors a chance to ensure they will see a different crop of suppliers as they tend to cycle in and out regularly.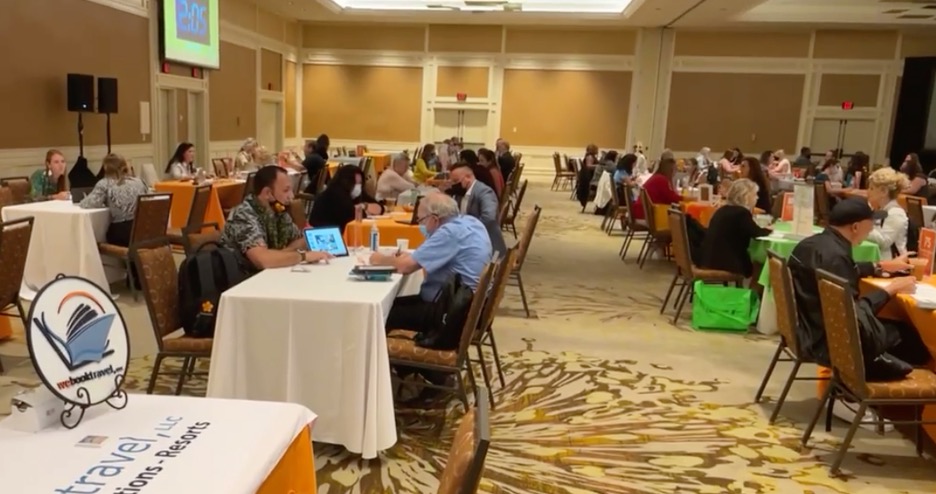 So why do I love this event? For one, it opens my mind to opportunities that go outside of my comfort zone. My agency has been pretty focused on cruises since day one. In meeting with suppliers from various lines of travel business, it has forced me to look at my client base and ask "Do I have someone who fits?" The answer sometimes is no, but many times it is yes. This puts me in position to be able to create a marketing plan for myself to capture more of my clients travels. Based on a meeting with a supplier of African Safaris, I booked a group that I would not have likely had the confidence to secure. My knowledge of safaris was very limited but that supplier meeting led to a more in-depth meeting that led to a joint presentation to my clients group. Without GTM, this would not have happened.
I also love GTM because of the legitimacy it brings my agency. Suppliers know beyond a shadow of doubt that the vetting process for advisors to attend GTM is rigorous. They know what it takes to get invited. They know that advisors who are invited are the type of people who have a book of business that they want. They want to talk to me and they treat me like I am important. Everyone likes to feel important, right? They are responsive to my needs and are incredibly valuable resources.
Another thing to love about GTM is the relationships made with other travel advisors. Everyone attends for similar reasons. We all want to grow our business and being able to network with each other and share ideas and plans is fantastic. There are a number of ways to run a successful agency and different models and processes to get there. I get the opportunity to meet people who work from home and are have no agents all they way up to people who have store fronts with 100 agents or more and everything in between. I have met people whose agencies are exactly like mine or have been there and people who are exactly where I want to be. More importantly, everyone is willing to share. I have had deep discussions about adding agents, adding new supplier relationships, growing my business and best ways to structure so that I can avoid the pitfalls that other agencies has fallen into.
This event has been particularly powerful for me this year. It is no secret that the last 18+ months have been hard on us all. It is draining to get stuck in the rinse and repeat cycle of "book, cancel, rebook" and spending more time talking about insurance and vaccinations than actual travel destinations and vacations. GTM energizes me and especially this year, I came home more hopeful and with some very specific action items and plans to ensure I leave as little to chance as possible. It would have been easy to slip into the "woe is me" conversations about how terrible things have been, but this did not happens at this event. Advisors here are singularly focused on where we are going and not as much on where we have been.
If this sounds like an event for you, check out https://www.gtmflagship.com to learn more about the event, what the qualifications are and more. Feel free to reach out to me personally and I would be happy to answer any questions you have. I can be reached info@webooktravel.net. Until next time, stay safe!
– Jesse